Do you have just 18 minutes a day to DRAMATICALLY improve your golf game?
Wouldn't you love to improve your golf game and play more like Tiger Woods, Lee Trevino, or Sam Sneed?
If so, our GOLF SERIES hypnosis sessions WILL help you improve your score - I guarantee it!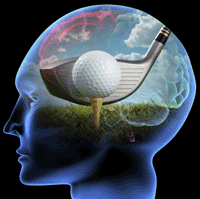 GOLF IS A MENTAL GAME
"Golf is a game that is played on a five-inch course - the distance between your ears."
~Bobby Jones
HOW TO IMPROVE YOUR GOLF GAME -
A Golf Tip You Can't Afford to Ignore!
It is more than just developing muscles and endurance - for sports improvement (especially playing golf) you must develop your mind as well.
It's HOW YOU THINK on the golf course that will determine your score. You've probably experienced those times when you were "in the zone" - shots were perfect, you felt great. All those golf lessons you've taken seem to pay off. But repeating that elusive feeling is difficult without knowing "how" you got in the zone in the first place. If you want to play on the PGA Tour and perform like Tiger Woods, then you need to think like Tiger Woods.
Jim Dent once said, "I can airmail the golf ball, but sometimes I don't put the right address on it."
If you've been playing for any length of time you know that the game of golf is 80% mental. All the golf lessons in the world won't help you if you tense up on the golf course, get distracted from where the ball needs to go.You have to relax, focus and put the "right address" on it!
Your mind and body are intricately linked. This means that for every aspect of the game from your grip, your swing, negotiating hazards, and your putt, there are corresponding neural networks in your brain that must be developed. Believe it or not, building up these brain capabilities is as critical as picking the right club for a shot.
So it makes sense that in order to improve your game, you need to improve the game on the "5 inch course between your ears"!
BUT HOW? Many golfers don't know where to start to improve their mental golf game. They may have heard that in order to improve their sports performance, they need to work on their mind. But many fear they won't be able to learn the skills or don't know where to turn. But if you can sit down in a chair to relax, you CAN learn (and enjoy) how to dramatically improve your golf scores!
Here's why it's important to condition your mind for golf success:
Your brain affects the four major divisions of your golf game.

These are:
your tee-off swing
chipping and pitching
getting out of hazards
finishing a successful putt
Each of these is a unique golf skill set that must be practiced and mastered. As this happens you actually grow and reinforce your brain's ability.
Is it necessary to first develop your mental game and the parts of the brain that are involved with that, or do the skills you need just emerge from physical practice?
Both happen simultaneously.
However, the best golfers realize that they can accelerate their mental development by participating in such things as guided imagery and hypnosis without even being on the golf course. By being able to relax and visualize the successful completion of your shot, you'll be able to dramatically improve your golf game.
And on top of that, having quick mental rituals that can be used while waiting for your turn, during practice swings, and before taking a shot can further enhance your playing.
If you want to play better golf, and improve your golf swing, hypnosis is your answer!
My "GOLF LIKE THE PROS" hypnosis session (in CD or IMMEDIATE MP3 download) is the first in our series of golf hypnosis titles and helps you train your mind and nervous system to relax and focus on your golf game. Hypnosis has a wonderful ability to start conditioning your mind so that you will be able to relaxed and successful when you next step onto the golf course. You'll be more self-confident, you'll play better golf and and you'll enjoy your game as you improve your scores. All you need to do is listen to the audio session each day for about 3 weeks and then as needed after that. (Golf like the Pros). This session is a great general skill enhancing session. Watch our FREE online video to find out how you can download this for FREE!
We've also got titles that will focus on developing specific skills such as TEEING OFF, PUTTING, NEGOTIATING HAZARDS, and CHIPPING AND PITCHING.
| | |
| --- | --- |
| Don't forget to sign up for our FREE Golf Mastery mini online course. In just 16 minutes you'll learn the secret to accelerating your golf improvement. PLUS - find out how you can receive GOLF LIKE THE PROS for FREE! | |
So, if you want to go from playing bogey golf to completing a course UNDER par, you'll find that the BEST golf club in your bag is your mind! One of the best golf tips you could take is to use hypnosis to improve your golf game!
BEST DEAL - Buy our Power Pack and get the 'Golf Like The Pros' SESSION FOR FREE!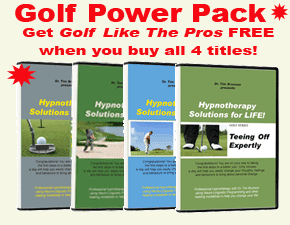 Power Pack Includes:
~~Plus you get Golf Like The Pros as a free bonus.~~
You get 5 CD's for only $89.99. Plus S&H. Order today!

You save $29.91 over single product prices!

You get a total of 5 MP3 downloads for only $69.99. $34.99. Order today!

Special offer won't last long!
WANT TO BUY JUST ONE OR TWO?
SINGLE MP3's are $19.98 and CD's are $23.98
(Currently all MP3's are on special at 50% OFF!! - Only $9.99!)
Improving your Golf


Promote Your Page Too


Tiger Woods
PGA Tour
Golf like the Pros, tiger woods, pga tour, open golf, world of golf, golf town, golf forum, golfing digest, pga golf, pgatour.com leaderboard, Hypnosis, Hypnotherapy, sports improvement, better golf, how to play golf, golf lessons, improve golf swing, golf tips, golf training, play better, golf skills, golf hypnosis, golf improve, golf tips, golf swing, golf instruction, golf instructions, golf grip, swing golf, golf lessons, golf lesson, golf guide, ladies golf, golf, golf psychology, golf mind, mental golf, trained brain, golf brain, nlp, nlp golf, golf hypnosis, consistent golf, golf psychologist, winning golf mind, winninggolfmind